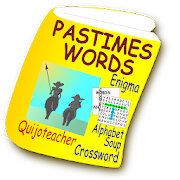 Last updated: December 27, 2018
Downloads: 1,000,000
Current version: Varies with device
Average rating: 4.5
Author: [email protected]
Category: Spinbas Games Studio
Compatibility: Windows (XP, Windows 8, Windows 10, Windows Vista, Windows 7) and Mac OS (macOS Sierra, macOS High Sierra, OS X 10.11, OS X 10.10
Download Pastimes for PC and Mac

Direct link

Direct link
Screenshots of Pastimes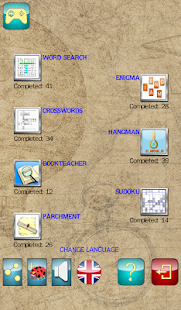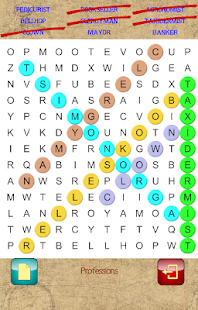 Video of Pastimes
Description of Pastimes
The only game you'll need to pass the time. Includes 7 fun games that you can enjoy in 6 different languages.

FUN GUARANTEED IN A SINGLE APP!!

Languages to choose from in the games: English, Spanish, French, German, Italian and Portuguese.

Includes:

★ WORD SEARCH ★
Always a classic, but no less entertaining. Find the requested words in a sea of letters.

★ CROSSWORDS ★
A fun challenge. Find where to place each word to complete the puzzle.

★ ENIGMA ★
An original game in which you have to use the letters shown to make a secret word.

★ HANGMAN ★
Emotion and fun ensured while trying to discover the secret term before you're finished...
hanging.

★ BOOKTEACHER★
Entertaining and challenging pastime in which you have to place pieces to compose a passage from the classic "Don Quixote" by Miguel de Cervantes and other books.

★ SUDOKU ★
No presentation needed, and although we have another app solely for number games, we have included this here at your request so that you can enjoy it without changing the app.

★ PARCHMENT ★
Brain game in which you have to guess famous phrases and proverbs, replacing the symbols that appear as a key with the correct letters.

Characteristics:
✔ Completely free.
✔ 7 fun games: Word search, Crosswords, Enigma, Hangman, Bookteacher, Sudoku and Parchment .
✔ New games being prepared for future updates.
✔ Games in six different languages so you can practice vocabulary in any language you like.
✔ Simple and satisfying, without complex options, simply choose your game and enjoy playing.
✔ Exercise your mind without stress, there are no time limits in completing the games.
✔ Connection with Google Play Games to complete achievements and share your scores.
✔ Clues in the games to help you to complete them if you're stuck.
✔ More than 10,000 words organized in distinct categories.
✔ More than 1,000,000 downloads.

You won't regret it...
Description of the last update (December 27, 2018)
Add new books in "Bookteacher": 'A Christmas Carol' by Charles Dickens
New words added.
Improved interface.